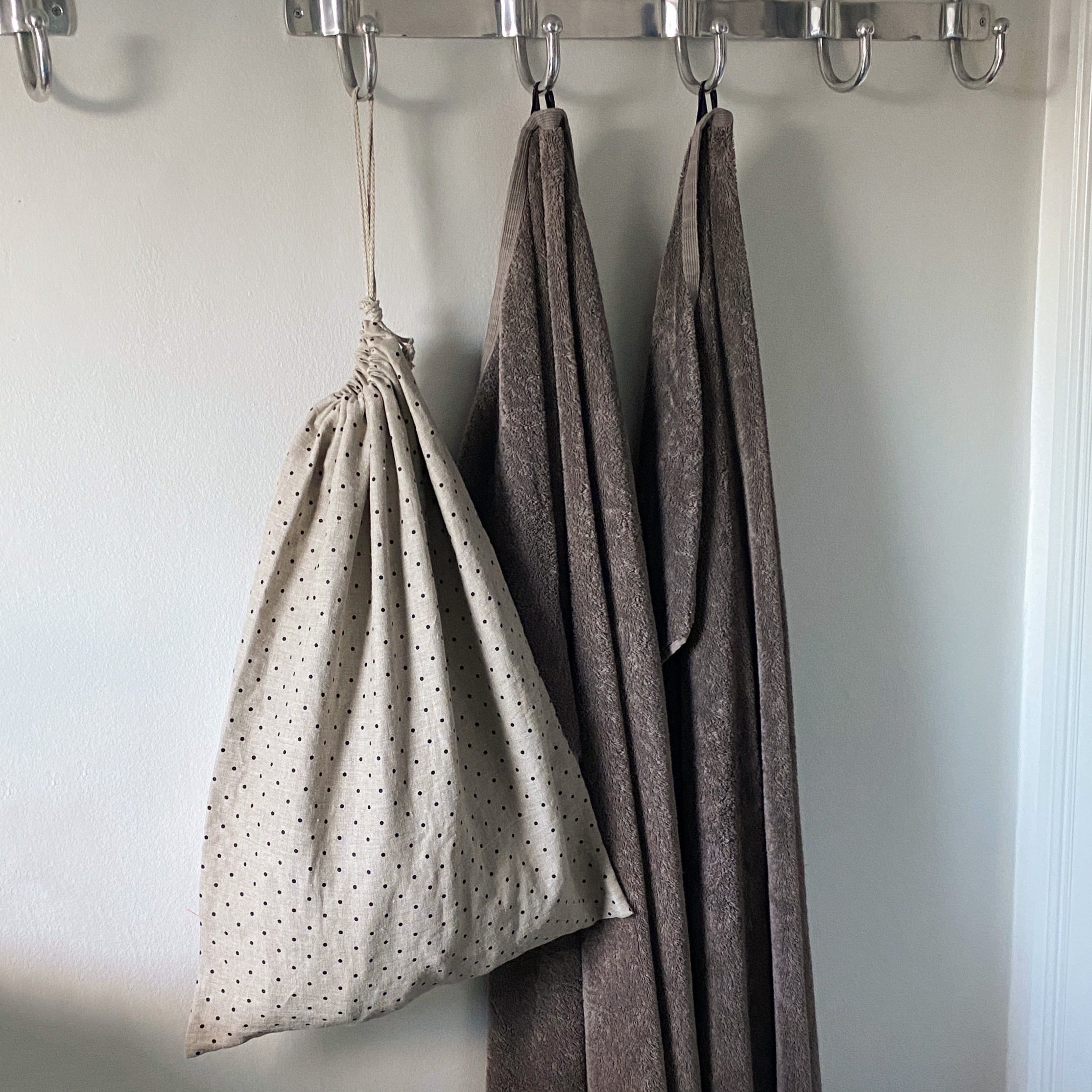 Linen laundry drawstring bag (50x68cm)
Beautiful linen drawstring bag, with handmade flax cord in natural with black dots.
This Linen bag is perfect for hanging on a coat rack, for your laundry. This way the laundry takes up very little space.
This bag is also the perfect travel laundry bag, it takes up almost no space in you suitcase/weekendbag. 
Hang it on a hook on the back of a door and use it for storing plastic bags or onions/greens in the kitchen.

Size 50 x 68 cm 
100% Oeko-Tex certified Linen, 100% handmade i Lithuania.

Please refer to our maintenance page, for care instructions.

---
Contact us tlf.: +45 7199 7676
Free shipping on orders over EUR 100,-
Linen laundry drawstring bag (50x68cm)
INFO
Fast shipping
Order before 2pm and you order will be shipped that same day.
We ship from Copenhagen Denmark (EU)
Order tracking
Once your order is packed and shipped, you will receive a tracking number via your provided contact details.
Returns
Easy returns.
All you have to do, is fill out the returnlabel and place it on your box.
Returns from outside of Denmark:
EUR 9,95
Send us a mail on:
shipping@revevert.dk
and we will issue you a return number and send you a link to you returnlabel.
You can also find your return label here
Get in touch
We are always at your disposal.
Please do not hesitate to give us a call, all weekdays from 9am - 4pm:
+45 7199 7676
Or send us an e-mail on:
info@revevert.dk